Advice from Ginny Fox, Director
People often write for more information about doing Peace Flags with their class, group or organization, and I send them this advice about fabrics, markers, paint, etc. I also send along a speech that outlines some of the Peace Flag Project focus on peace. — GF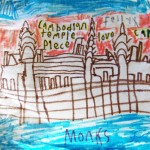 In terms of practical advice, I can tell you that I buy all of my fabric at Joanne's Fabrics, and I especially like the Keepsake Calico fabrics. I try to choose fabrics that have a muted pattern to them so that it gives the flag a texture but does not interfere with the writing or images. I always buy lots when they are on sale. I also use lighter shades most of the time.
Usually, I have markers for people to work with; I've found Sharpies to be the best. The Staples store carries these larger packs of Sharpies in a great array of colors. Staples stores also give teacher discounts, which you may already know.
I've also collected many stencils, which a lot of people like. Depending on the circumstances, you can also use fabric paint, but it's more difficult logistically. Also paint requires drying time, which further complicates things. I don't usually recommend using paints because (1) they're more expensive and (2) the drying part is hard to manage. But the results are also more striking and beautiful.
In terms of talking with adults and children, I'd suggest you discuss what each of them can do to make the world more peaceful. That focus is actually the focus of my interest in peace. If you read the Mission Statement on the website, you'll see that I call our mission "The Space in Between." That space is the space between a focus on inner peace (a personal journey) and world peace (overwhelming for individuals). It's the space where we live with each other every day, and it's where I think individual behavior can make a difference. It has to do with how we treat one another — our families, neighbors, colleagues, friends, etc. We can each make all of those interactions more peaceful by how we behave. We can all be peacemakers.
As my work with the Peace Flag Project has broadened and deepened over the last few years, I've come to feel that the flags work in many ways. Creating them is an individual experience, which provides the opportunity for each person to connect with something important, some wish or hope or prayer. Hanging the flags keeps that inspiration before us and shares it with the rest of the world. Together these flags reflect our collective yearning for a just, kind and loving world. Fluttering in everyday places, they connect us with the best in ourselves and each other. If peace is our gift to one another, and I believe it is, these flags are one way to share that gift. I am so pleased to be sharing this project with your classes.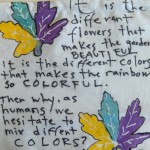 I'm also attaching a short speech/article I've written. Perhaps it will be helpful to you in talking with your class. Click here to see speech.
Please feel free to contact the Peace Flag Project with any additional questions (info@thepeaceflagproject.org). I'd also love to know how things go, and please send pictures if you can. We're going to start adding to our website events that people are doing all over the country.
In peace and gratitude, Ginny