Imagining a Peaceful World
The Peace Flag Project invites you to make Peace Flags on your own or to be part of one of our PF Workshops. Creating Peace Flags is an encouraging and positive experience for everyone, young and old, from every culture, faith and background. We work with adults and children in schools and community organizations, providing everyone the opportunity to create their own flags to express and share important wishes for the world in a simple, direct and powerful way.
(For more information about making flags, click here.)
The Peace Flag Project is inspired by the tradition of Tibetan Prayer Flags, which for centuries have displayed prayers for peace, harmony and compassion. Tibetans believe that their lovely prayers for peace, compassion and kindness are carried on the wind around the world.
(For more about the Tibetan Prayer Flag tradition, click here.)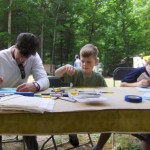 Each flag is a quiet reflection on what would make the world a better place. You will find that making Peace Flags is an enriching and enlightening experience. We invite you to make Peace Flags of your own or to schedule a PFP Workshop with us. Throughout the year, we're part of many public festivals in Rhode Island and surrounding areas. Check out Upcoming Events on our Home Page to see what's coming up.
For more information about making flags, click here.
For more detailed information if you would like to make flags with your school, group or organization, click here.