Imagine Peace | 

Celebrate Peace | 

Create Peaceful Spaces
The Peace Flag Project is a 501(c)3 nonprofit, and all donations are tax deductible.
We are a wonderful small pro-peace nonprofit with a big outreach, and we need your support. Thank you for whatever donation you are able to make. There are several ways you can support The Peace Flag Project. You can donate time. You can donate money. You can buy a "peacemaker" t-shirt. You can buy a 3-pack of Peace Flag Kits. Or you can surprise us with a combination of support methods – and land some pretty nice gifts for friends and family along the way!
To donate time, simply fill out the form below. To donate money or buy our merchandise, please scroll below,  and add the products to your cart. Note: if you would like to donate more than $10, simply change your quantity in the cart.
[contact-form]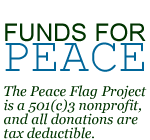 Every penny counts!
$10.00
Make Peace T-shirt
$15.00
3 Peace Flag Kits + 1 shirt
$20.00