Bill Harley to perform
at the Weaver Library's Community Celebration of Peace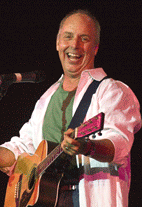 Weaver Library invites you to join the concluding celebration of January's month long focus on peace on Wednesday, February 22, 2017 at 6:30pm. See the unveiling of a peace banner created from the artwork of children who attended peace workshops.  Hear how the East Providence community, from library patrons and staff to English as Second Language students to children, defined peace.  Enjoy the music of local guitarist Barry Brown, a slide show, and light refreshments as the program begins. The evening will conclude with a special performance by the beloved musician and performer Bill Harley.
Harley, a songwriter, storyteller, author, performing and recording artist, is also the recipient of two Grammy® awards. Bill uses song and story to paint a vibrant and hilarious picture of American life. His work is polished, knowing, and warm, and honors the universal, joys and hardships we all share. Bill's music, full of wit and wisdom is a perfect conclusion to our month long program imagining, understanding, creating, and being peace.
Bring the entire family to this uplifting event, which is free and open to all.  Questions? Call 401-434-2453.
We invite you to be part of the Peace Flag Project's exciting upcoming program at the East Providence Weaver Library. This wonderful collaborative project with Weaver is especially nice for all of us because the program is funded with a grant from the Rhode Island Council for the Humanities. And we are especially proud that the grant to the Peace Flag Project is the first humanities grant made to a peace organization. Good news for peace.
And there's a lot to enjoy and experience and learn with this exciting program:
The Kick-Off Event is a concert by RI's great band — the Gnomes. They'll be performing at the Library on Monday, January 9 at 6:30 pm in the Champlin Program Room. Come enjoy their wonderful music and hear more about this month-long project exploring peace, defining peace and working for peace — and creating a Peace Banner for the Library. We know you will leave with a smile on your face and a lot to look forward to.
Three Peace Flag Workshops will be held at 3:30 pm Tuesday afternoons — January 10, 17 and 24. Come learn how to be a peacemaker — whether you are in 1st Grade or 6th Grade or even a grown-up. Children will have fun interviewing people in their families and/or communities, defining peace, becoming a peacemaker and making peace flags! These are important concerns and skills for every child, and they are explored in a most congenial way. And their flags will be combined to create a Peace Banner for the Library, a symbol of the community's hopes and dreams for a better world.
Working for Peace in Rhode Island. Monday, January 23 at 6:30. Two peacemakers in Rhode Island will share their compelling stories in this evening program for adults: Omah Bah, author and founder of the Refugee Dream Project, and P.J. Fox, Director of Rhode Island's nationally recognized Institute for the Study & Practice of Nonviolence.

Community Celebration. Come join the party to celebrate all we have
done and see the unveinling of the Peace Banner.Enjoy food, live music and the company of a community that chooses to imagine and work toward a peaceful world. Local talented musicians Nany Hood and Barry Brown will perform. Each peacemaker will receive a special certificate.
All events are held at the East Providence Weaver Library, 41 Grove Street, East Providence.  All events are free and open to all.  Please register for the children's workshops.  Call 434-2453 or see www.eastprovidencelibrary.org for all the details on this exciting project for 2017!
Did I mention that we'd like you to help us spread the word! Please send all this along to friends with kids who might be interested. Adults are welcome, too. We will be forever grateful. And please come with your kids to learn how we can all make this a better 2017 and a better world.
Peace and love, Ginny Fox