Our Peace Flag Kits provide the foundation for your personal expression of peace. We have assembled the "blank" flags for people to decorate however they wish. Some people choose to draw or paint; others collage with other fabrics or materials; others still stitch or sew onto the flags. No matter what your medium, from simple to elaborate, your flags will reflect your style; no set of flags are ever alike! You can also visit our "how to make a peace flag" page.
Do you have a group that would like to have a workshop that promotes peace? Schedule a workshop!   Workshops allow groups to have the dynamic of building peace together.
Or maybe you'd like to volunteer at our next event! Drop us a note:
[contact-form]
And finally, to support the Peace Flag Project choose the item(s) below to "add to cart." You can adjust quantities in the cart.  Thank you for supporting the Peace Flag Project.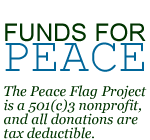 Every penny counts!
$10.00
Make Peace T-shirt
$15.00
3 Peace Flag Kits + 1 shirt
$20.00